OpenText Elite™ Awards
Celebrating the Successes of our Customers
The OpenText Elite™ Awards recognize customers for their outstanding efforts in deriving business value from innovative and successful software deployments using Enterprise Information Management solutions. Visit our Winners' Circle to find out more about these and other winning solutions.
The awards are handed out each year at our annual user conference, Enterprise World.
For more information, please contact: elite@opentext.com
And the Winners are...
The winners' circle is where we highlight winning solutions from previous years. You can find out who the finalists and award winners were for each year by clicking on the corresponding tab.
To learn about previous award winners, please click below: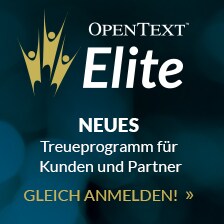 SUCCESS STORY SUCHEN
Durchsuchen Sie unsere Datenbank nach Lösung, Branche, Kunde oder Region