OpenText Core for SAP SuccessFactors
Verbessern Sie die Erfahrungen Ihrer Mitarbeiter, automatisieren Sie HR-Prozesse und gewährleisten Sie Compliance bei länderspezifischen Sicherheitsvorschriften.
Was bedeutet Content Management im Personalwesen?
Content Management hilft den Personalabteilungen, die Effizienz zu steigern, die Mitarbeiterbindung zu verbessern und die Compliance durch effiziente Digitalisierung, Verwaltung, Erstellung und Entsorgung von Mitarbeiterdokumenten sicherzustellen.
OpenText Core for SAP SuccessFactors im Überblick
OpenText™ Core for SAP® SuccessFactors® kombiniert digitalisierte Mitarbeiterdokumente mit den wichtigsten Daten in einem zentralen Repository. Auf diese Daten können berechtigte Personen über die SAP® SuccessFactors®-Oberfläche zugreifen. Dadurch entsteht eine nahtlose 360-Grad-Sicht auf die Mitarbeiter und eine höhere Effizienz der Personalarbeit.
Die Cloud-basierte Lösung verbessert Reaktionsfähigkeit, Self Service (ESS)-Funktionen und Mitarbeitererfahrung (Employee Experience). Eingebettete Funktionen zur Dokumentenerstellung erzeugen eine aussagekräftige, konsistente Mitarbeiterkorrespondenz. Das Retention Management unterstützt die Compliance-Anforderungen während des gesamten Lebenszyklus der Mitarbeiter im Unternehmen.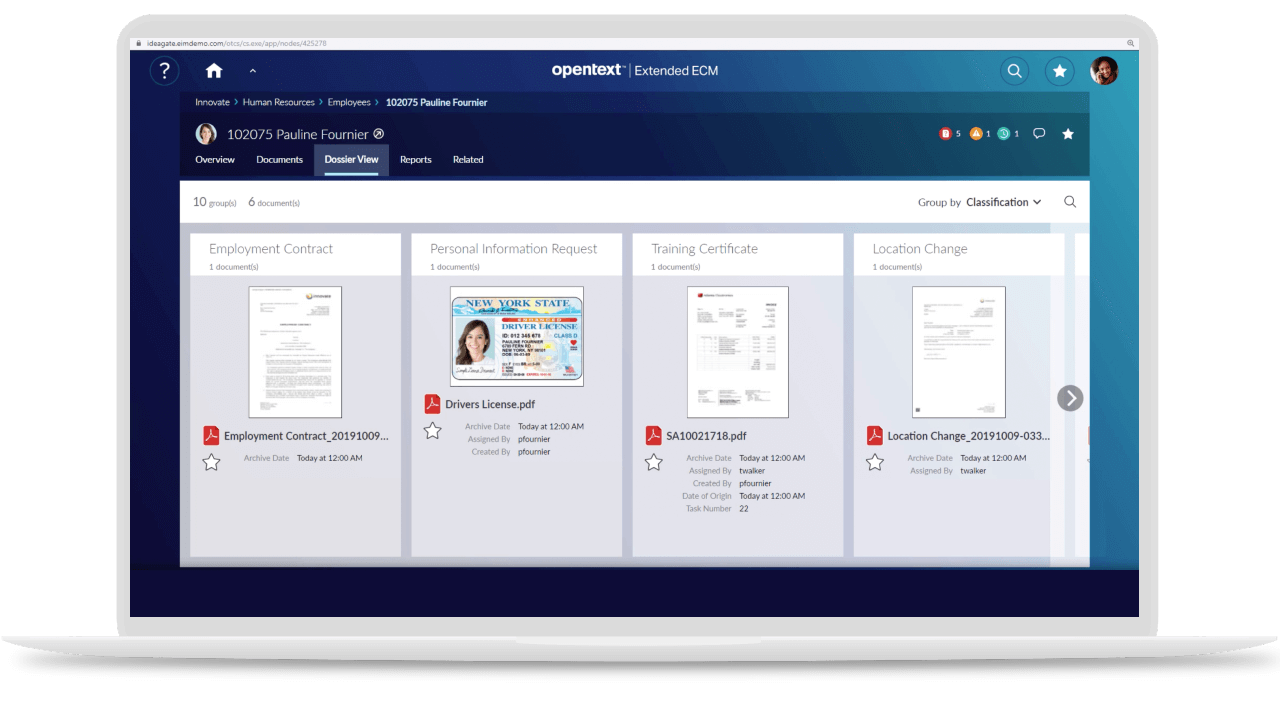 Features von OpenText Core for SAP SuccessFactors
Verwaltung von Mitarbeiterakten

Digitalisiert und verwaltet Mitarbeiterdokumente in einem integrierten zentralen Repository. Nutzt den Dossier-Viewer und die Volltextsuche zum sofortigen Abrufen von Dokumenten. Versendet Warnmeldungen bei fehlenden und veralteten Dokumenten. Unterstützt regionale Ordnerstrukturen und Dokumenttypen.

Erstellung von Dokumenten und Upload-Services

Erzeugt interaktive Mitarbeiterbriefe und Korrespondenz. Bietet Designvorlagen zur Erstellung von länderspezifischen Briefen, die über ESS/MSS generiert werden. Verfügt über einfaches Drag-and-Drop und Massen-Upload von Dokumenten. Speichert hochgeladene Dokumente automatisch in den richtigen Ordnern.

Zugriffssicherheit und Retention Management

Ordnet Aufbewahrungsrichtlinien regionsspezifischen Dokumenttypen zu. Warnt die Benutzer vor Dokumenten, die kurz vor dem Ablaufdatum stehen. Ermöglicht Benutzern die Definition verpflichtender Dokumente zur Unterstützung von Compliance-Vorschriften.

Integration von SAP SuccessFactors

Benutzeroberfläche ist in Success Factors integriert für einen einfacheren Zugriff durch HR Business Partner und Mitarbeiter. Synchronisiert sich mit den rollenbasierten Berechtigungen von SuccessFactors. Generiert personalisierte, korrekte, konsistente und aussagekräftige Personalanschreiben unter Verwendung integrierter Mitarbeiterdaten. Nutzt die rollenbasierten Berechtigungen von SuccessFactors zur Steuerung des Dokumentenzugriffs.
Vorteile von Core for SAP SuccessFactors
Seamless SAP SuccessFactors integrations

Leverage a solution co-developed with SAP product management to get the richest integration set, aligned roadmaps and stringent quality testing that offers the same product level standards as SAP SuccessFactors.

Centralizing HR documents supports Shared Services

Access all centrally managed documents from around the globe to enable HR Shared Services. Support the workforce from any location to improve HR efficiencies and provide an elevated employee experience.

Ensure regional compliances and data security guidelines

Comply with global data security guidelines using country-specific retention rules and customizable document types. Ensure completeness of employee files through document completeness tracking and reporting.

Automate HR correspondence

Increase HR efficiencies through interactive document generation. Manage the entire document lifecycle through a centralized and secure platform. Accelerate onboarding and recruiting by enabling quick turnaround and self-service functionalities.

Global SaaS deployment

Deploy a SaaS solution in one of OpenText's global data centers and take advantage of multiple language support.
Kontaktieren Sie uns, um mehr über OpenText Core for SAP SuccessFactors zu erfahren